A CBD vape pen is a basic device that is perfect for using to vaporise cannabinoid vape liquids. People love vaping CBD as it is said to be the most bioavailable. This means that it enters the bloodstream faster than other delivery methods.
When it comes to selecting the perfect CBD vape pen you don't necessarily want anything with adjustable wattage or temperature.
Instead, you should look for something basic. Something without any thrills or lots of complicated settings. Keep it super simple.
What to look for in a CBD vape pen?
Here are a few key features to look out for when it comes to your CBD vape device
High resistance coil (1ohm minimum)
Set temperature
Easy to use
Mouth to lung vaping style
Is a CBD vape pen suitable for nicotine eliquids too?
I wouldn't suggest using the same coil or tank interchangeably between nicotine and CBD. This is because nicotine can degrade the cannabinoid. Instead, use a different device or tank, or at the very least, wash out the tank before you add the nicotine juice or cannabinoid in.
CBD vape pens we love
Here are a few CBD vape kits that we think team up perfectly with your favourite CBD vape juice.
Aspire Pocex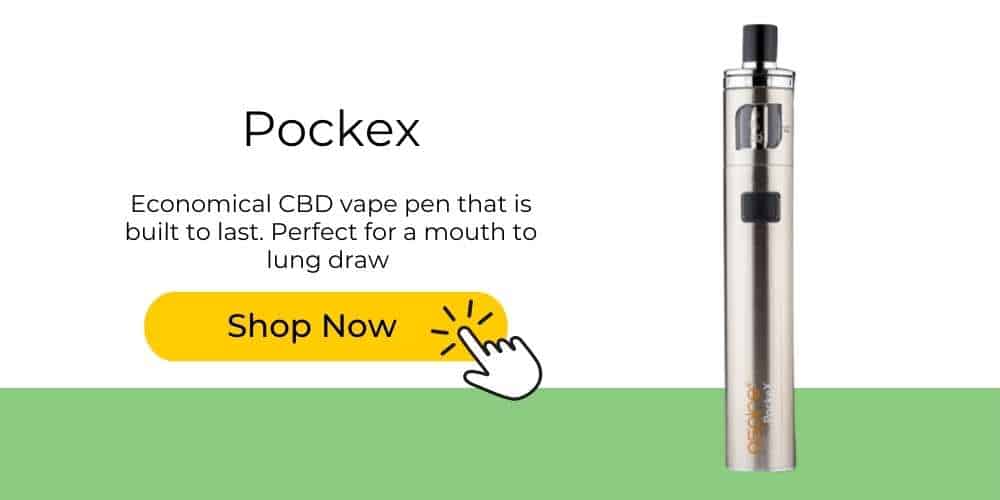 The Aspire Pocex is a popular device. It makes for an ideal CBD vape pen as it is easy to operate, has a mouth to lung draw and uses coils of 1.2ohm. In this kit you will also get a 0.6ohm coil option, this wouldn't be needed for your cannabinoids, but it is good if you are also vaping nicotine or other e liquids.
The Pockex has an internal 1500mAh battery which could easily see you through days, if not longer. Of course, this will depend how much you are hitting the CBD vape pen.
Eurdua T18ii
The Endura T18ii by Innokin is a great accompaniment to your CBD juice. It is a simple to use, low powered CBD vape pen with a high quality finish.
You will appreciate the MTL draw from this CBD vape pen and the fact that it has a nice size battery. The 1300mAh battery should keep you going a while before you need to recharge.
The device itself is small, coming in at just 145 x 18 x 18 mm, including the tank. Fill up with your chosen liquid by removing the top cap and squeezing the nozzle down the side, avoiding the central tube.
Vaporesso Orca Solo Plus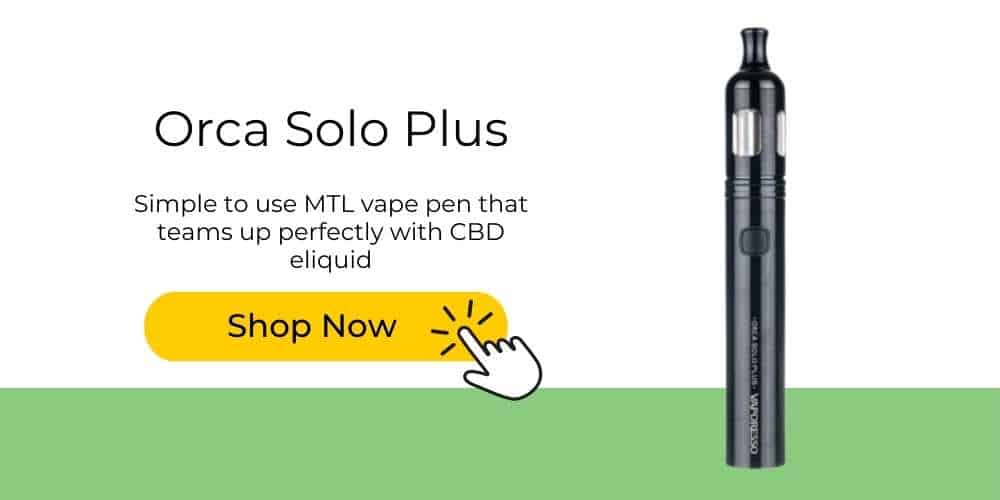 The Orca Solo Plus by Vaporesso is another CBD vape pen that comes out top for us. Another one with a good sized battery (1200 mAh) and a MTL draw.
The Orca Solo Plus does have various power output settings. These are determined by the coil you have installed. If you are using the 0.6 ohm coil it would be set at 16-22 W. If you are using the 1.3 ohm coil you will be using 7-12 W. When using this as a CBD vape pen you will use the 1.3 ohm coil to vape at 7-12 W.
Uwell Caliburn G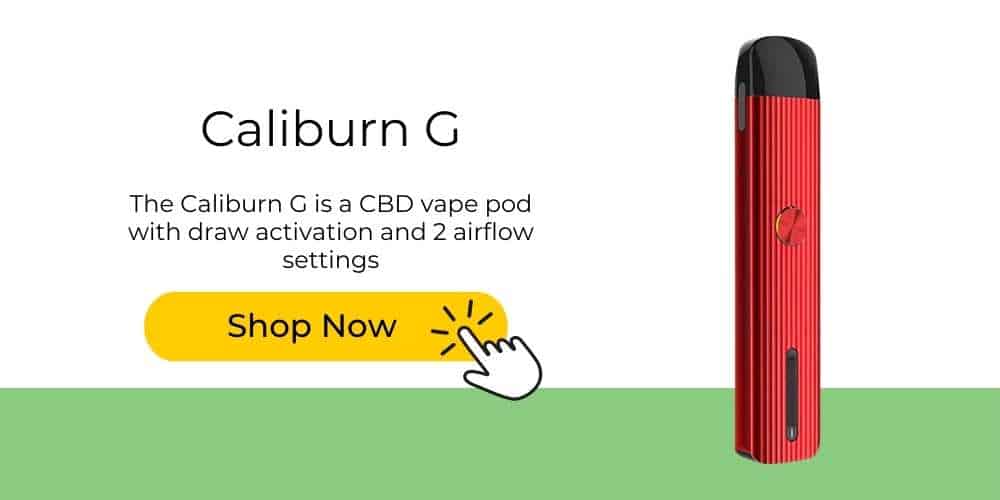 The Caliburn G by Uwell has low power and overall is a great vape pod to pair with your e liquid containing cannabinoid. It has a smaller battery than some of the CBD vape pens listed, coming in at 690 mAh. However, it should still see you through the day.
The dimensions of the Caliburn G are just 108.3mm x 22.5mm x 12.6mm. It is draw, or button activated, has 2 airflow settings and is very simple to fill and use.
We really like the Caliburn G as a CBD vape pen, even though really, it is a pod!