Full spectrum CBD e-liquid differs slightly to the isolated version. It is different in the way that is extracted as well as the potential benefits that it unlocks. Full spectrum CBD is extracted from the cannabis plant, however, it is done in a less aggressive way. This maintains the terpenes within it. This leads us on to the next question.
What are terpenes?
Terpenes are what give plants their aroma and effects. There are thousands in the plant world and a few hundred in the cannabis kingdom. Terpenes found in cannabis have added effects which is why it can be beneficial to keep them present in your CBD.
The entourage effect of full spectrum CBD e-liquid
Terpenes have their own unique profiles for helping with various ailments and illnesses. Some can help to reduce anxiety, subside cancer symptoms, alleviate pain and inflammation, kill bacteria and inhibit cancer cell growth. When you have these terpenes alongside your CBD it creates the entourage effect. This means that you have the added benefits of all the terpenes, alongside your CBD benefits. They work in synergy.
Is there any THC in full spectrum CBD E-liquid?
Yes, some. In the UK the legal limit is 0.2%. The THC remains within the e-liquid due to the way in which it is extracted. Unlike isolate, it is extracted as a distilled oil and comes with the plant matter, including trace amounts of THC. Rest assured though, this small amount will not get you high.
How do I know it is full spectrum or isolate?
When you are looking at CBD you will notice that some say full spectrum, whereas others do not. Another way to tell is by looking at whether there is any THC within it. If THC is present then it is full spectrum CBD e-liquid.
What e-juices are full spectrum?
At CBDStar we have a couple of different e-liquids to choose from. There is the Green House range and Dutchie Original. Both of these are full spectrum. Let's look into them a little deeper.

MANGO HAZE – Dutchie Original, 250mg 10ml
Mango Haze CBD
This e-liquid contains 5% terpenes and is flavoured as an authentic cannabis strain. As with most CBD e-liquids your PG:VG ratio will be 80:20. This will mean that the juice is runnier and will require a more basic device.
Mango Haze has a sweet citrus and mango taste with a touch of skunk. This strain has a euphoric and relaxing effect. It contains the following terpenes: Caryophyllene, Humulene, Linalool, Terpineol, Alpha-Bisabolol, Beta-Pinene, Citronellol, Geraniol, Myrcene, Alpha-Pinene, Borneol, Camphene, Eugenol. Find out all about the best terpenes in our blog.
OG Kush – The Green House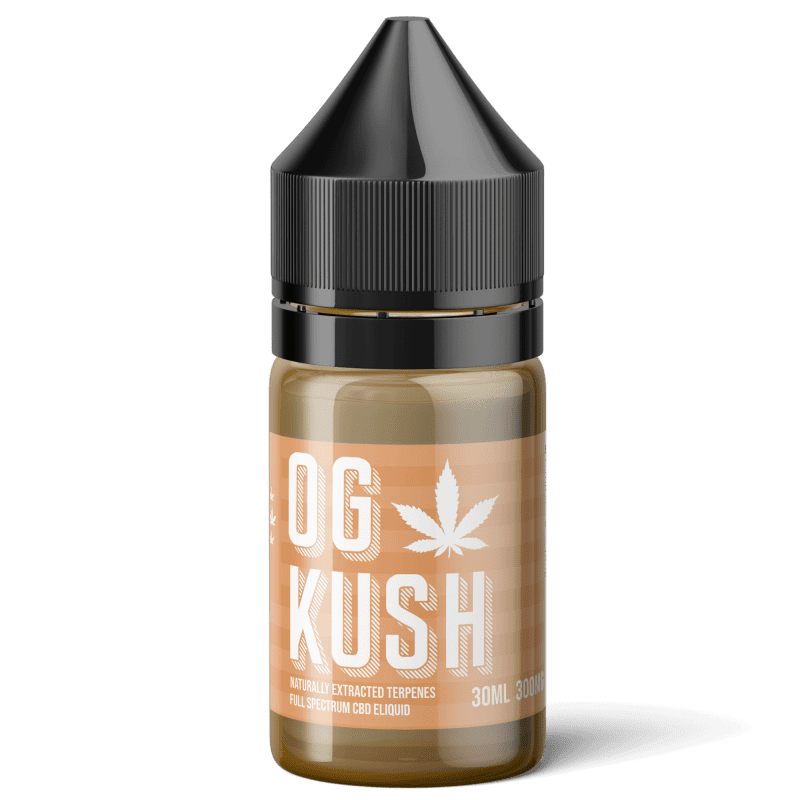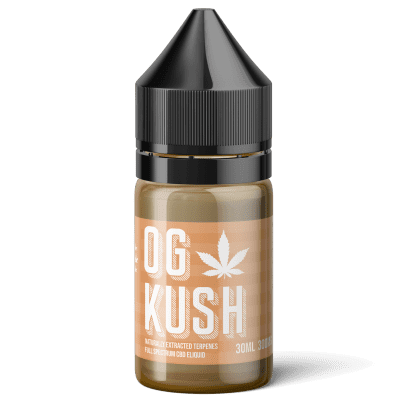 The OG Kush e-juice is a 300mg CBD e-liquid, containing terpenes found in the strain of cannabis by the same name. It is a good juice for those looking to improve focus, motivation, attention and drive. This CBD e-liquid has an aroma of wood and pine, it's really something.
Same as with the Dutchie Original it is best used in a starter kit or mouth to lung device as it has a high PG content.
CBD isolate can do good things on its own, however full spectrum offers that something extra.