"Is CBD oil better than vaping?" is a pretty loaded question.
This is CBD Vape vs CBD Oil. The final Battle – Only 1 can win. In this guide we review both.
There are some factors to consider when deciding how to take CBD. You'll consider how quickly you need it to take effect, what you feel comfortable with and what is most convenient for you.
We look at the differences between CBD oil drops and CBD vape juice to help you decide what is more suitable.
CBD Vape vs CBD Oil – Can Oil Win?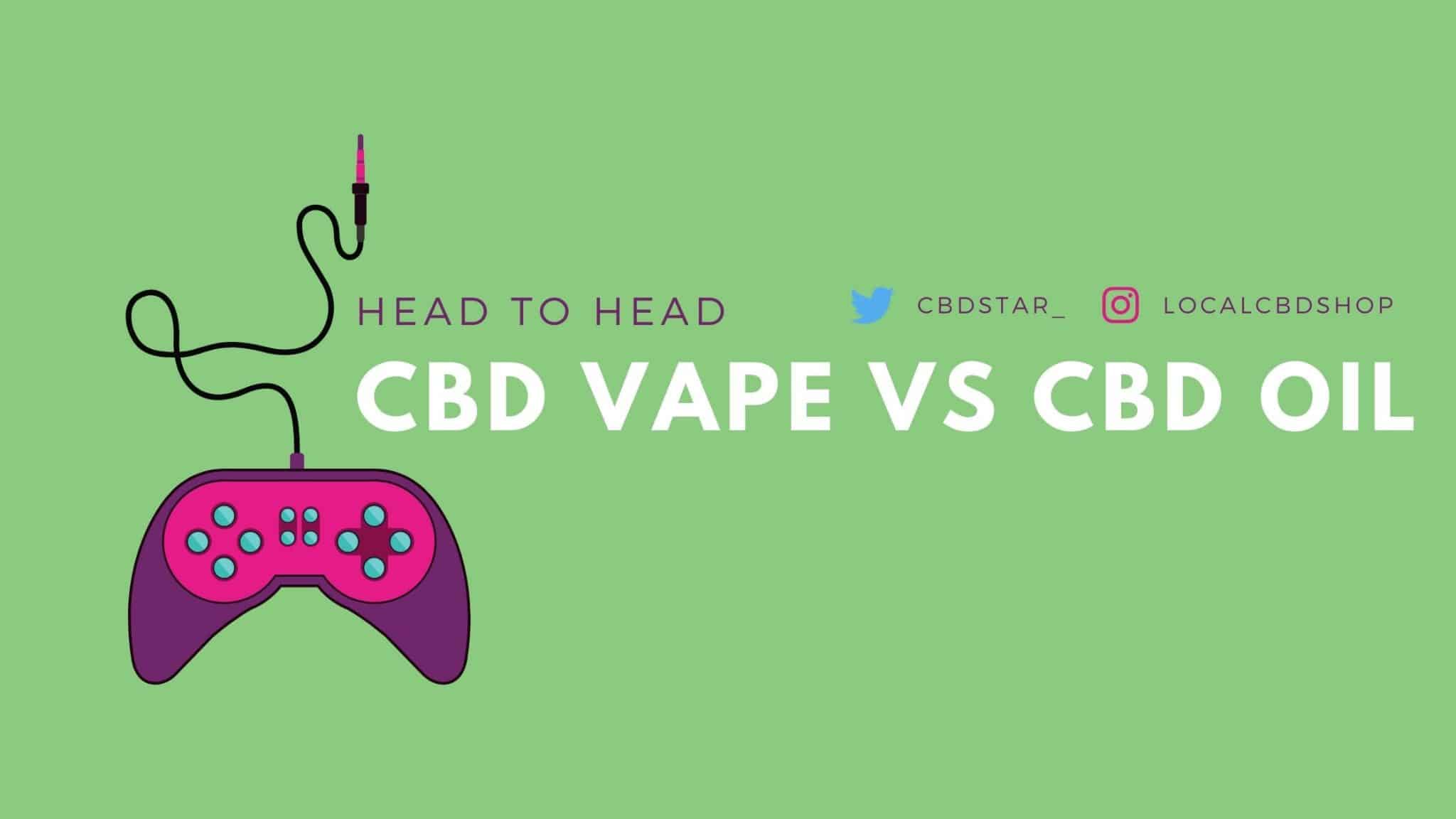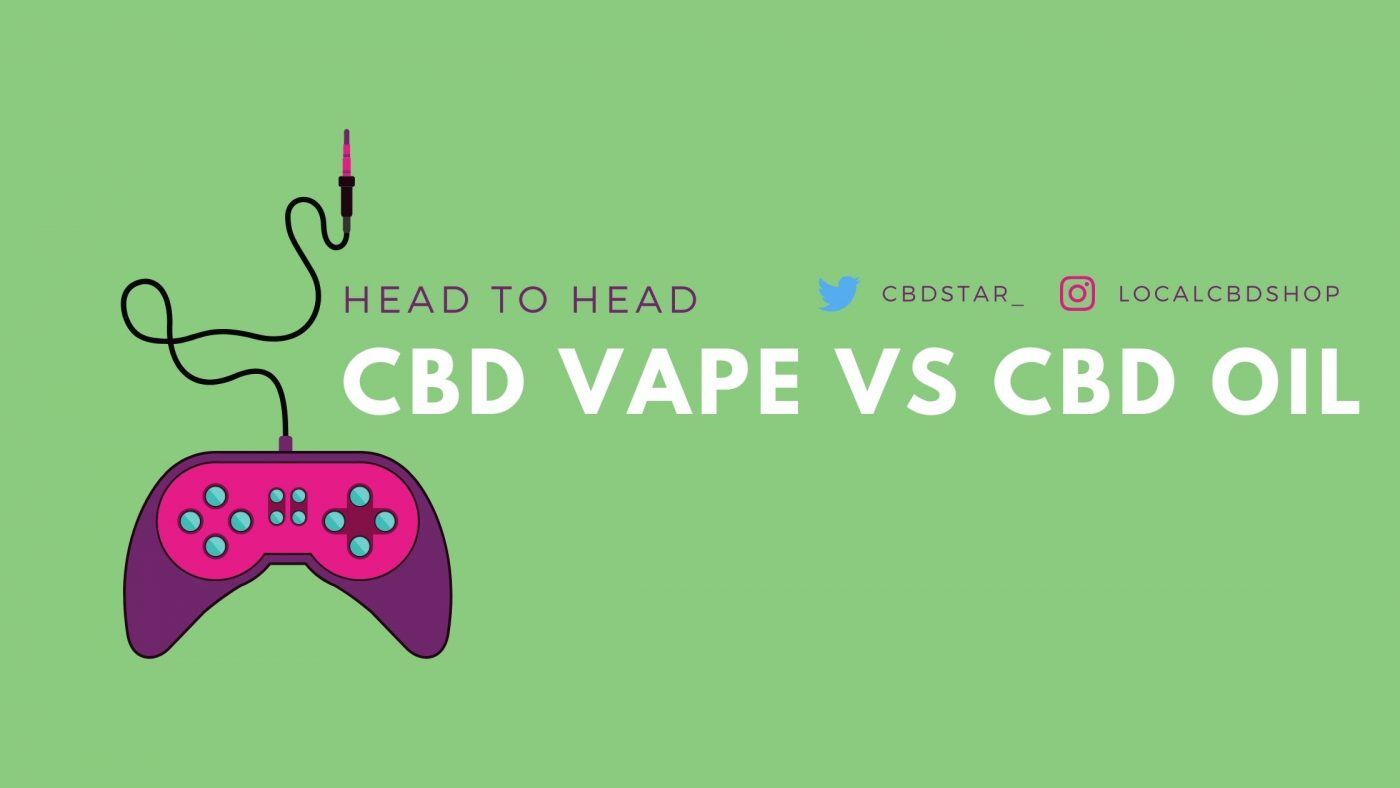 CBD tinctures come in a dropper bottle. You put a few drops on your tongue, or on the inside of your cheek where the skin is thinner.
You might find that you are suited more to CBD oil if you are looking for a quick effect, without vaping it. If you are not comfortable inhaling then CBD oil would be the better choice for you.
Another time where CBD oil is better is if you don't get the chance to go for a vape. If you have a particularly busy and stressful job you might use CBD to help. In this case, drops might be best so you can easily fit them into your day without having to take a vape break.
When vaping is better than drops
CBD liquid is one of the most bioavailable ways to take CBD. It quickly makes its way into your bloodstream and to your receptors, providing relief. If you are struggling with an issue that you are looking for quick relief from then vaping CBD might be your choice.
Vaping CBD doesn't mean that you will be blowing billows of clouds. CBD e-liquid is very discrete and due to its high PG content, so it doesn't give off lots of clouds. The devices best suited for vaping CBD are more basic devices that are smaller and easy to use.
We couldn't say just on this, that in a contest pitting CBD vape vs CBD oil, that vaping always wins. It really is down to how you feel most comfortable using CBD and what you want from your experience.
Besides vaping and CBD oil there are a number of other ways to take CBD. You can use flowers in a dry herb vaporizer, mix it into food, take capsules or even hit up the edible game.
Does the effects differ between the two?
CBD has been found to help with physical and mental conditions, including anxiety, depression, PTSD, eczema, cancer symptoms, Parkinson's, sleep disorders, epilepsy and more.
We are seeing a lot of anecdotal evidence on CBD in general for potential benefits, and there seems to be very little difference in the studies as to which one produces more notable effects.
Health Europa a major European medical study group looked at a host of delivery methods for CBD studies. In their results, when the difference in delivery methods was taken into account, the effects appeared not dissimilar.
This was not actually the purpose of the study, but it was really a safeguarding mechanism to ensure they covered all delivery bases.
Can you vape CBD oil?
No, no and no some more. You can not vape CBD oil. You can vape e-liquid that contains CBD as it is specifically designed for the purpose of being inhaled. Oil is not meant to be inhaled.
We don't blame you for asking the question though. Often, CBD vape juice is refered to as CBD vape oil. Of course, this could easily make you think that vape oil and CBD oil are the same things.
We hope we've cleared up the confusion. Stick the drops in your mouth and the inhale vape juice using a vaporiser.
CBD oil vs CBD vape – which is safer?
When it comes to vaping, it is said to be 95% safer than smoking. However, with it being relatively new, there are no long term studies on the health risks of vaping.
Taking CBD oil just requires you to drop the oil in your mouth rather than inhaling it. If you are concerned about the long term health risks from inhaling a substance then your best option would be to choose tinctures.
Final Verdict on CBD Vape vs CBD oil
Really the only thing that separates the two in any major way, is the speed with which CBD vape liquid can reach the bloodstream. For that, we give it to E-liquid.
1 nil.